A ten foot column of reclaimed construction plywood, a thrown out surf school foamie chopped in half, and the MacGyver treatment of a kayak-sailboat all felt at home standing next to the hottest in asym, flex fin and rail design at It Doesn't Not Work this past weekend at Rockaway Beach Surf Club in Queens, NY.
Since 2014 the annual experimental design symposium has traditionally landed to earth at Picture Farm Gallery in Brooklyn. A desire to be closer to the beach prompted organizers to host the board expo at the legendary post sesh outpost, Rockaway Beach Surf Club, which happily positioned all involved next to tacos, beer, and a local shaping studio. The move also allowed the boards on display, some that float and others not so much, to be tested on Sunday.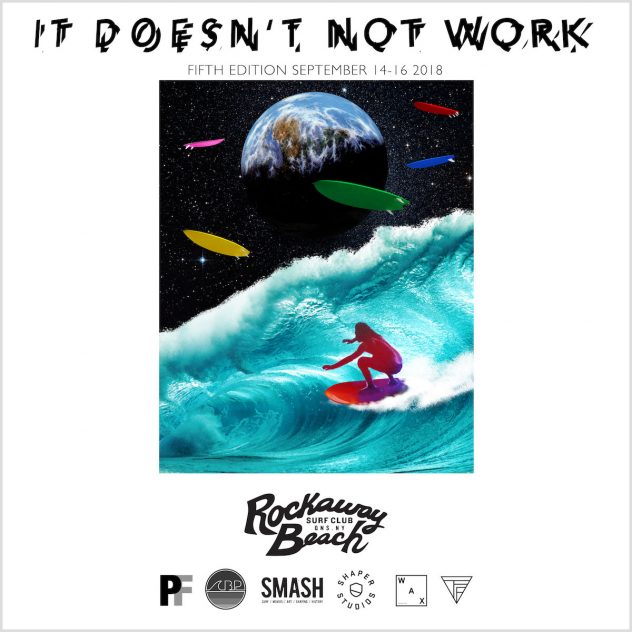 From its launch, IDNW founders David Murphy of Imaginary Surf, Toddy Stewart of Picture Farm Gallery and Tyler Breuer of SMASH SURF and Swell Season Surf Radio, committed to showcase without judgement what's possible in water craft design by inviting professional shapers as well as weekend wizards and backyard tinkerers to mix it up in one room. Complete with its own print only magazine edited by Wax Studios, the symposium has evolved into a beloved and raucous exchange of ideas with a penchant for nonconformity.
Special guest Chris Clark, founder of Shaper Studios the global network of board workshops, flew in from San Diego and performed a public shaping demo that revealed how a foam blank can transform over the span of a couple hours into a sexy fish ready to be glassed. Later on Saturday evening Chris joined a panel discussion that took a stab at framing the current and future states of the surfboard industry. Panelists also included Ron Shine of Board Porn.TV and Dan O'Hara owner of Solid Surf, who pulled over on his East Coast van tour from California. Swell Season Surf Radio's co-hosts Ben Pomeroy and Tyler Breuer moderated the conversation which covered the disruption taking place in board design and retail as well as the opportunities and challenges of a global supply chain. They also briefly discussed S.U.Ps before that topic soured the mood.
The weekend also featured the screenings of: Liz Magee "Cuban Wave Riding", a short film which documents her exploration of the island's secret and (empty) breaks with a crew of local rippers and shapers, and Ashton Goggan's "Electric Acid Surfboard Test" which featured Dane Reynolds surfing all manner of boards and launching twin-fins to rude heights not yet imagined. Local shaper TJ Schuler of Submarine Surf also received screen time as he treated the audience to some home movies that proved that his salvaged wood boards do trim quite nicely on Rockaway waves.
The weekend culminated with the Surfabout, a treat for sunbathers and a shock for visiting surfers at the 84th street jetty who witnessed a flotilla of wooden single fins, aleias, and multi-channelled Motherships take over the water. For several hours surfers were seen swapping boards from a quiver stacked in the sand to then race back into the water yelling with wonder and stoke.
– By Ben Pomeroy
IG: @itdoesntnotwork