The Endless Winter: A Night Celebrating East Coast Surf
With temperatures climbing near 90 today, it's somewhat fitting that last night's celebration marked the conclusion of the second annual Clif Bar Cold Shot Challenge.  The awards ceremony, held at Union Pool in Brooklyn, NY, gathered top photographers and members of the East Coast surf community for a night of cheers and beers, and – of course – the presentation of this year's champions.  
First off, we would like to send a huge THANK YOU! to all of the photographers and surfers who braved the elements and participated in the contest.  It is your dedication and love for surfing and photography that makes this event so special. What Cold Shot showed us is that our community is less about competition and more about collaboration. The amount of positivity shared between you all throughout the winter, connecting with each other and hyping on each other's photos, is the most important thing (we think) to come out of this. We really look forward to seeing it grow.
The Champions
Congratulations to Pat Nolan, Evan Conway, and Ryan Moore for taking top honors in the Air, Land, and Sea categories, respectively.  When asked what he was going to do with the money, Ryan Moore not-so-jokingly said, "pay back some of my credit card debt…this is a pretty expensive hobby."  Though unable to attend the event in person, a relatively speechless Pat Nolan accepted his award via Facetime from California – you have to love technology. He caught up with us after about his epic shot looking up the Rockaways: "Sweet talking an apartment tenant in the laundry room lead to our golden ticket to get on the roof of the apartment complex…it made the red-eye flights [from Cali], 4:30 AM wake up calls [from NJ] and flooded roads completely worth it." Evan Conway, who won the Land category with a shot that embodied the essence of this winter's frigid, snowy barrels, also took second place in the Air division.
Air – Pat Nolan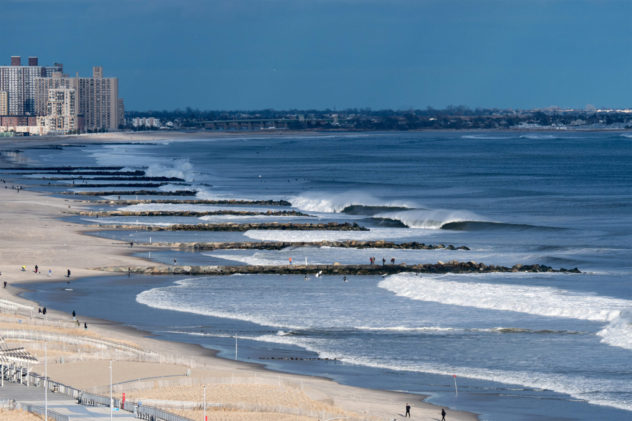 Land – Evan Conway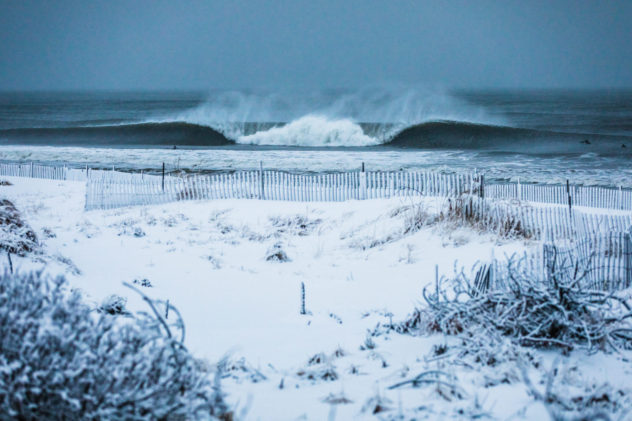 SEA – Ryan Moore

The Finalists
With exactly 1,475 entries and hundreds of mind-blowing shots, narrowing down the finalists was no easy task.  We have been truly taken aback by the amount of talent and commitment the 'Right Coast' has to offer. With that said, let's have a look at our 2018 finalists!



























Category: Air
Pat Nolan
Matthew Ciancaglini
Evan Conway
Andrew Fisher
John Gilman
John Gilman
Ryan Mack surfer: Cash Barris
Blueberry Dave surfer: Kyle Latch
George Hughes
Category: Land
Evan Conway
Daniel Pullen
Shawn J. Casey
John DeVivo
Jonathan Nimerfroh
Patrick Duggan
Andrew Fisher surfer: Sam Morrissey
Trevor Murphy
Jon Carter
Category: Sea
Ryan Moore
Robbie Vallad
Ryan Mack surfer: Kai Potter
David Nilsen
Trevor Murphy
Trevor Murphy surfer: Brett Barley
Mike Incitti surfer: Hunter Rains
Patrick Duggan surfer: Stevie Pittman
Cody DeGroff surfer: Alex Gray
The Contest
Running from January 4th to March 31st 2018, the Clif Bar Cold Shot Challenge 2.0, hosted by NySea, is the premiere east coast cold water photography contest.  In its sophomore year, the contest has expanded its territory, accepting submissions from Maine down to North Carolina. This year there were three regions – New England, Northeast (NY&NJ), and Mid-Atlantic – where users could submit and vote on their favorite shots. In addition to expanding the playing field, the contest had three content categories this year: Air, Land, and Sea. With over $6K in prize purses, as well as $1K going to the surfers captured in winning photos, the stakes were raised. The east coast surf community fully embraced Cold Shot year two, with nearly 1,500 entries submitted by 322 photographers.  A mix of public voting and a professional judges panel determine the 27 finalists. The professional judging panel included world renown surfers, surf photographers, and filmmakers: Chris Burkard, CJ Hobgood, Taylor Steele, Peter Devries, Will Skudin, Todd Glaser, Jason Murray, Grant Ellis, and Derek Dunfee.
The Waves
There's no doubt in our minds that this winter was one for the books, treating the East Coast to 7 named storms and 2 unnamed swell events. January kicked off with Winter Storms Grayson and Hunter and ended with Winter Storms Inga and Kalani, which brought solid surf and sub-freezing temperatures to the northeast. We all became honorary meteorologists, with the terms 'Bombogenesis' and 'bomb cyclone' frequenting conversations in the lineup (cough – bombogenesis is defined as a rapid drop in atmospheric pressure of at least 24 millibars in 24 hours – cough). February was slightly quieter, but still delivered 2 unnamed storms that provided fun and rippable surf to the majority of the coastline. If you were out east at all this winter, then March was definitely the month to write home about. The third month of 2018 saw 5 named storms, 4 of which became nor'easters, starting with Winter Storm Riley and followed by Quinn, Skylar, Toby, and Uma.
Awards Party Gallery
This year's awards party was a blast.  We would like to thank everyone for coming out and supporting the event.  We would also like to thank Clif Bar, Hurley, UnSound Surf Shop, WRV, Real Watersports, and Yeti for their continued support.  Relive a few of the memories from the night here. All photos courtesy of Chris Hamlet.