In today's society, almost everyone has a phone, making us susceptible to an endless stream of advertisements and images. However, there are few photographers out there who aim to capture the rarest photos that make us stop, even if only for a second, to appreciate the artistic beauty.  These artists not only understand their cameras in entirety, but consider it an extension of themselves.  One of these photographers is New York's Matt Clark, who recently landed the cover of the most prestigious magazine in the industry, Surfer Magazine.  We had a chance to catch up with Clark on his background, accomplishments, and his recent, most famous images.  
– Chris Hamlet
When did you first get into photography?  And then specifically surf photography?
It all started back when I was in high school and I had taken a real interest in photographing the ocean. The only outlet I had to do that was shooting photos with those disposable film cameras from the drug store. The first few rolls were absolute crap but after a few tries on a bigger day I managed to get a few shots; still nothing comparable to anyone shooting with a pro camera. The truth is, it all started with surf photography and after attempting to capture surf, came the interest in photography outside of the water. When I started I used to paddle out with the camera and try to surf at the same time, which I consider almost impossible.  The images you want to capture on camera aren't the same ones you're going to paddle for.
Who are some people you have looked to for inspiration, both in and outside photography?
Inspiration came from other fellow photographers in the area like Mike Nelson and Tommy Colla.  Also Brian Nevins and Nick LaVecchia and beyond that I found inspiration in Nick Brandt and hundreds of other photographers and artists.
You've had a lot of success shooting from both land and water.  Do you prefer one to the other?  Why?
When shooting in the water you're able to capture so many different looking images so my preference is always to be in the water. I started riding waves way before I ever picked up a camera and the perfect combination of both is shooting photos in the water. It's always an awesome experience except when there is a current. Those days with heavy current I am cursing everything including an innocent seagull flying overhead (laughs).
I started riding waves way before I ever picked up a camera and the perfect combination of both is shooting photos in the water.
When framing a shot, what type of things are you looking to capture/what are your favorite types of shots?
Framing photos from land I try to capture the scene in the best way possible, then I move on to more compositionally interesting images, and end on experimental type photographs. Shooting from land can be tricky because the perfect set always seems to be coming in when you're about to take an image that wont capture it perfectly. For example, if I am shooting some sort of reflection or something where the wave will be the smallest element in the scene, that's when the perfect wave comes in. It's great for the photo but as far as documenting the wave itself, it gets chalked up as a lost moment.
When was your first photo ever purchased or published?  When and where did it appear?
First image published was in Bodyboarding magazine around 1999-2000 in the user submitted letters section where I basically just said that New York gets sick surf and had an image run of a great beastly A-frame taken from the water in late October on one of those disposable film cameras. I was so amped!
What was that feeling like?
It was amazing back then. You would wait and wait for the next magazine to come out and my friend Tom would always get them before me so I would go home from high school and we would sit in the basement of his house and drink cans of coke and pour over the magazine until I had to go home and watch body boarding videos. They are some of the best memories I have. Not a worry in the world.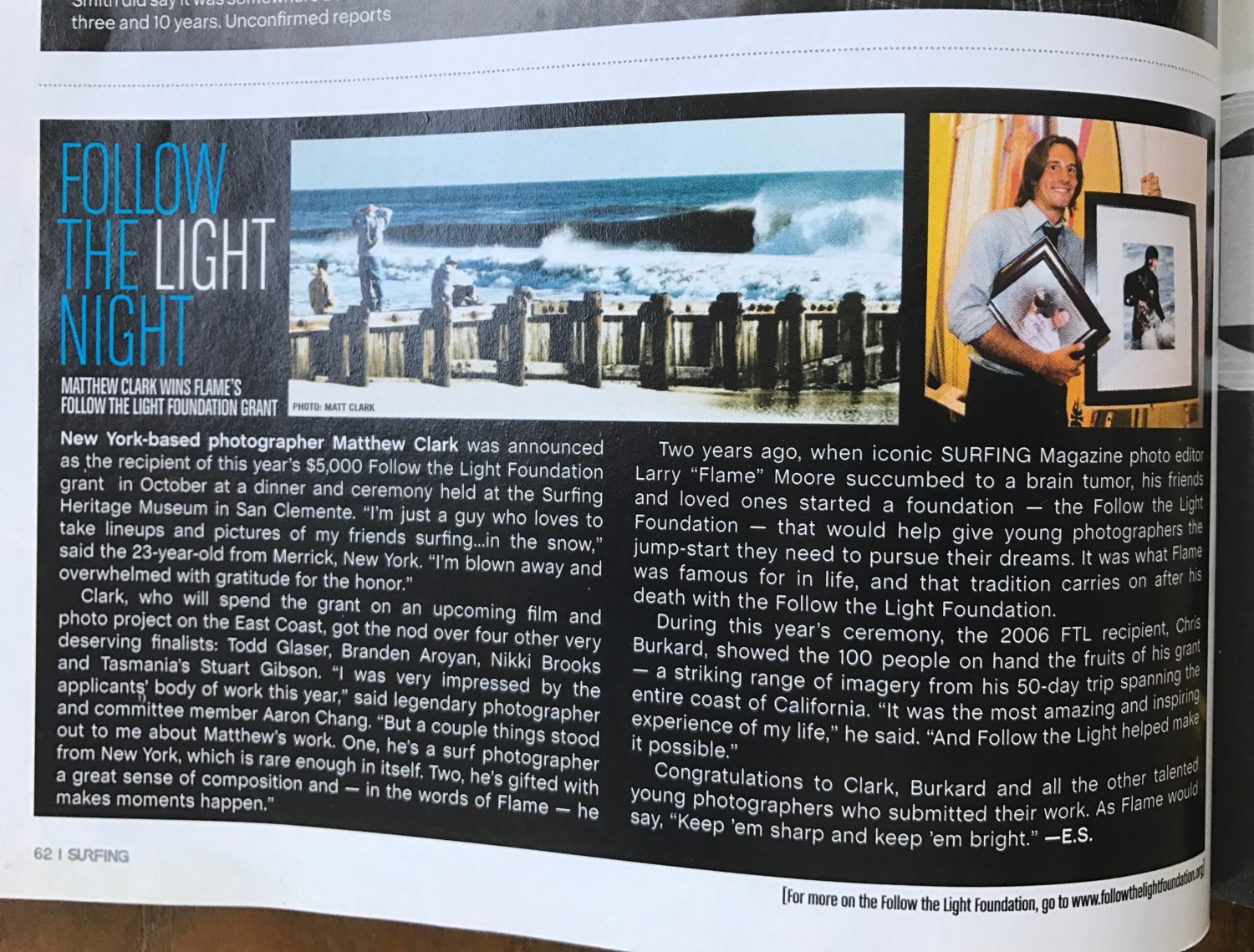 Is that when you considered photography as a career?
I considered my photography career to begin when I won the Follow the Light Foundation Grant in 2007. That felt as if I had made a name for myself and I put my all into my submission.  People often think I won the award for a single photo, when in fact I was awarded the grant because of a 25 image submission and detailed explanation of where I came from, what I was doing, and where I was going in photography.
Lets talk about the shot that landed you on the cover in Surfer Mag.  When and where was it taken?
The image on the cover of the magazine is from New York and was taken in March 2016.
What can you tell us about it?
It was your typical cold day of surf in March. Gloomy looking in the AM and then the front clears out and the sun drops below the cloud line before it passes below the horizon and the sky lit up pretty nice. I shot the photo with a 70-200mm lens and a flash as you can see in the lip line and the streaks going up the face from the slow shutter speed and the flash to illuminate the wave a bit.
Did you have this specific photo in mind before swimming out?
Yes, I planned everything out to shoot with the flash after the sun had set. This is about 15 minutes after sunset and at this point it's beginning to get a bit darker and I can play with longer shutter speeds without over exposing the photo too much. My water housing is made for a camera that is 2 generations older than the model I use now. The buttons on the camera don't match up with the buttons on the housing and I'm stuck with the settings I have set on the camera before paddling out so it's a bit of a hassle to plan in advance for what you think the settings should be.
What equipment was used to capture this specific shot used on the cover?
Canon 5ds with a Canon 70-200mm f/2.8 lens and a 580 EX II flash, SPL water housing and an Isurus winter suit.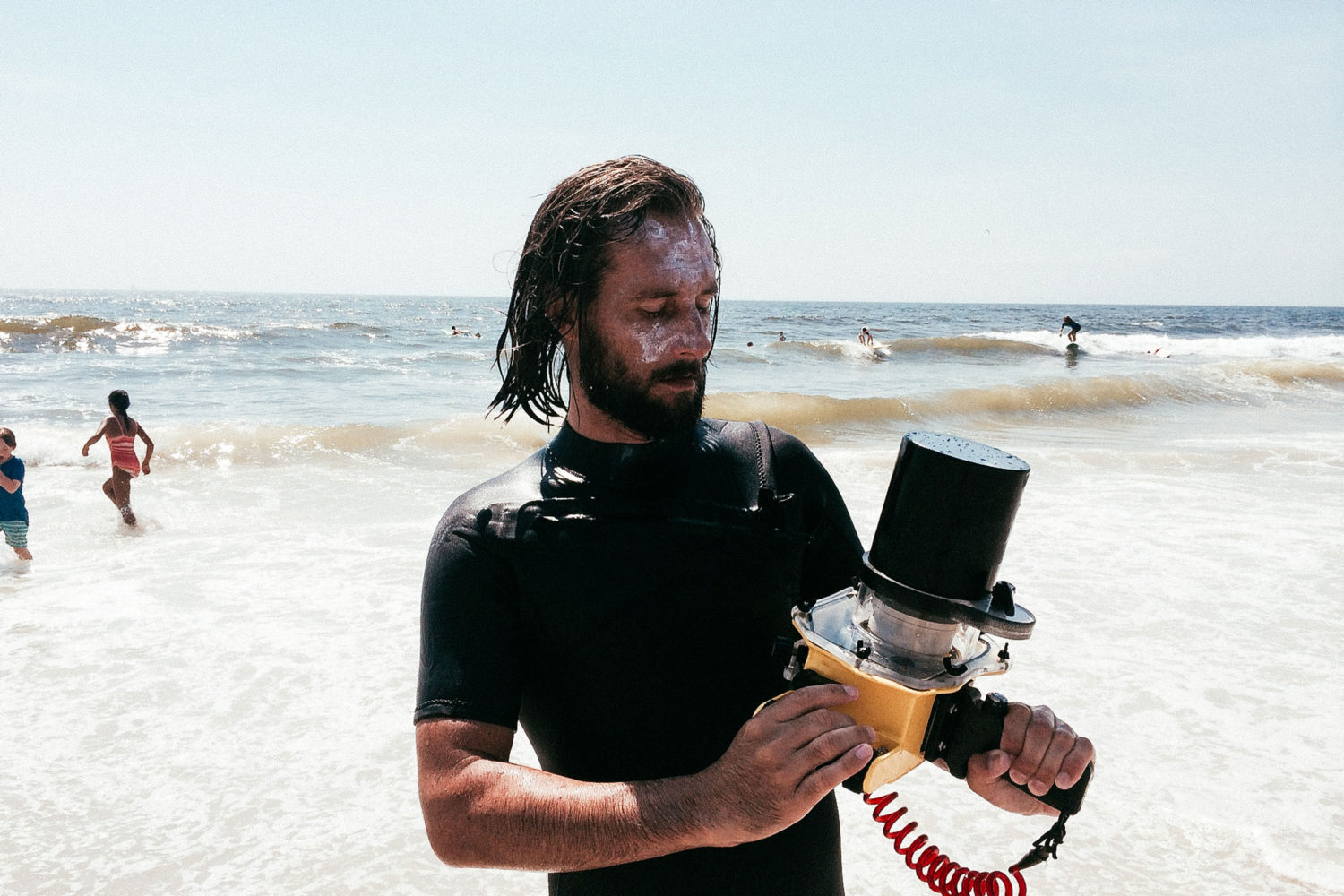 How did the shot land on the cover and others picked to be in the spread?
I had no say or knowledge of the cover until the photo showed up in a text message from my friend Pat in California who said congratulations. He saw it on Surfer's Instagram feed and sent it to me. Grant Ellis likely chose that photo as the cover and I think it was an amazing choice (laughs). I had known that Grant wanted to do a piece on my work and I had submitted a bunch of photos of New York to him and then did an interview with Ashton Goggans back in November while I was in California. We sat down for about an hour and a half and had a chat about what it is that I do.  It is a great feeling to have your work recognized and praised. When I swim out I swim out alone, the day I shot the cover, my car was the only one in the parking lot and I was the only person on the beach the entire time. No one was there to help me pull a frozen suit over my head, no one there to tell me where they saw the best peak come in. That's the best part. I do it for me, but others are able to appreciate it.
Any last words of advice?
Go for it and don't stop until you make it. Let other people drive you to success not to insanity and fight to make things happen for you. Don't give up.
Matt continues to inspire us all through his lens and art.  Some of his art can be found on his website, http://www.mattclarkoceanimagery.com.  


Matt Clark Early Photo
New York Photography
Matt Clark Surfer Mag Photo Annual Cover Shot
Surfer Mag Spread – New York Surfer photo
Throw Back Matt Clark Photo