Watching someone else fall in love with surfing is amazing. It reminds you of your first date with the ocean. It brings back the type of smile that only comes out once in a blue moon. Those moments where you are so stoked that your body simply reacts to the jolts of adrenaline running through your veins. When you are so absorbed in the present that you almost black out. Once you get a taste of that feeling there is no looking back. Life shifts- and you start planning everything around the next surf session. Over time your priorities start changing and you even start rethinking where you live, and the time it takes to get to the ocean.
Well, all of us at NYSEA were blessed to witness this exact experience happen to Dylan Hronec, also known as "The Surfing Samurai",  one of our greatest inspirations.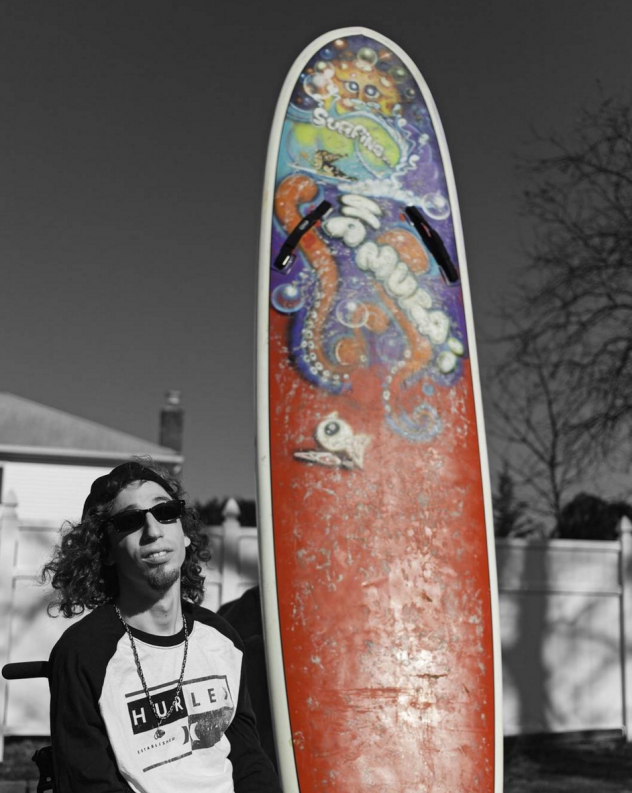 Dylan is a 23 year old surfer from North Bellmore, New York. Born with Cerebral Palsy, Dylan has tackled many obstacles to get to where he is today. He has been surfing for almost 5 years now.  He developed a love for the water from a young age, but was always involved in other sports as surfing was not considered a possibility for him. That is, until Dylan went online one day and came across videos of Jesse Billauer, an accomplished quadriplegic surfer, and became instantly determined. Dylan's family supported this dream of his and started looking up possible surf outings in the area. They found a couple of local non-profits and soon enough Dylan was riding his first wave. "I know from that first day my life changed. While other adaptive sports are altered in some way, surfing is not. I felt like we were all on the same playing field."
We caught up with the Surfing Samurai for a few questions:
NYSEA – How did you get your nickname ?
SS – "I got it because I have no fear in the water and also because of my hair style."
NYSEA – Who gave you your nickname ?
SS – "Dan Volpe"
NYSEA – Why do you love surfing ?
SS – "I love surfing because it's freedom to me, I don't stress or think of anything when I am in the Ocean. "
NYSEA – Rumor has it you have been pulling into some barrels, is that true ?
SS –  "Yea, its true. I guess you can say, when you are in the tube time just slows down and you take it all in."
NYSEA – What is the ultimate goal for the Surfing Samurai ?
SS – "To become more indepentent in the water, and to help open peoples' eyes to the fact that no matter what you face in life, you can find something you love and chase it."
NYSEA – What's next ?
SS – "Not sure what's next, we might release a short film to show people this summer. I just wanna make a difference and help end some of the stigmas associated with disabilities."
NYSEA – Anything you want to add before we sign off ?
SS –  "Yes, it's hard to put into words what Cliff Skudin and the Skudin Surf crew has done for me. I don't even know how to get it across to people, how much I appreciate the sacrifices these guys make to get me in the water. It means everything to me and I am just stoked on the opportunity to surf with all the boys. "
NYSEA – Thank you for your time, we will see you in the water in a couple days !
Follow The Surfing Samurai – Instagram